Success stories like Tickle Kitty don't happen every night.
Especially in today's unpredictable sex-help marketplace.
Yet Dr. Sadie's bedroom-wisdom books rocketed to become today's premier go-to sex guides, winning top publishing awards, selling over two million copies, and satisfying thousands upon thousands of enthusiasts. This success led to a line of Dr. Sadie signature personal lubricants, Slippery Kitty and her thriving pleasure products on-line retail boutique, TickleKitty.com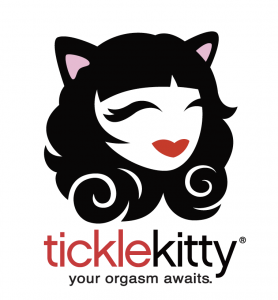 But the real measure of success is how well Tickle Kitty helps individuals discover new pleasures, revive forgotten ones—and heat up the bonds of love and passion in life's most important relationships.
And that's Dr. Sadie's passion.
Tickle Kitty's Entire Mission Told In Just Three Words
How many CEOs pack the full power of their corporate mission into three irresistible words?
For Dr. Sadie, it's easy: More Powerful Orgasms.
This arousing human desire is what makes her company Tickle Kitty purr. "We're here to inspire positive change in peoples' lives," observes Dr. Sadie, Tickle Kitty's Kitty-In-Chief. "We clear out old inhibitions by providing the accurate information they need for more frequent, more intimate, more uninhibited sexual pleasure."
Discovering the key to greater erotic passion begins not with vibrating toys, but with vibrant knowledge. That's Tickle Kitty's specialty. "We create the how-to sex guides you wish you'd read sooner in life," notes Dr. Sadie, author of bestsellers Ride 'Em Cowgirl!, Tickle My Tush, Tickle Your Fancy, Toygasms!, Tickle His Pickle, and her new book especially for men, Mystery of the Undercover Clitoris: Orgasmic Fingertip Touching Every Woman Craves. "These books are fun, informative and honest, so you can be inspired to explore all the pleasure and fulfillment you deserve."
"When you relate to a person's wants and desires with understanding, respect, thorough information, and just the right touch of humor, they get excited, inspired, and most of all, impassioned," she says. "Finding or reviving your sexuality is the most glorious and natural way to feel better about yourself and your life."
What's next? "Everyone deserves more pleasure, and I'm happy to provide it," says Dr. Sadie, who always has new sex-help books in development. "I guess I'll never be satisfied till everyone else is satisfied!"